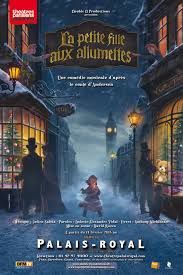 David Kawena is an Israeli artist. He is one of the two co-authors of the stamp Marianne of current usage, whose picture of Marianne of five-year term he drew. He designed the poster of the musical show for children "La Petite Fille aux Allumettes", adapté du conte d'Andersen, and its drawings inspired decorations and costumes.
Exclusive interview with David Kawena.
What was the initial specifications?
When David Rozen and David Rebouh came with the idea of me being a part of the show, at first we only talked about the poster artwork. Knowing and loving the original classic fairytale by Hans Christian Andersen, I immediately had a few visions in mind as to what visual would represent it the best in my eyes. I wanted to create a poster that would carry the feeling of a grand production, with influences of the classic 90's hand-drawn animation movies and still keep it very much 'mine', with my unique style. The image in the poster is a very cold one, not just as it's wintertime, but also the people around the little girl give her a 'cold-shoulder', not looking at her at all. As a contrast, the old-fashioned hand drawn animation style gave the overall visual a 'warm' feeling. I thought that young parents who must've grown up on the classic animated films of the 90's will be reminded of their childhood and be drawn to take their kids together to see the show. I wanted to create magic. Yes, MAGIC was the very initial specification.
What are the influences which allowed you to create this imaging, magic?
At first, when we talked about the imaginary world in the show, it was set to be more Russian inspired. I went on to explore the Russian traditional dresses and outfits and put that into the characters/costume designs of the palace household characters and the Queen herself. In some of my early versions of the queen and the character of Anya, they both have a traditional Kokoshnik inspired headpiece on them. While it was a very dignified look, especially for the queen, it wasn't as magical or grand as the story called for. It was too realistic.

The team in France reviewed these designs and said: 'We want more magic ! Let's forget about the realistic/Russian style". They basically told me: 'David - play more with your own magic!'. This was when I set out to draw the costume designs you see in the show for the characters of The Queen, Anna & Anca, Aleksey, Miroslav and little Sasha.

The Pirates in the Imaginary World are a different story altogether. They were set to be influenced by the 'SteampPunk' style to begin with. They were so much fun to design, especially the characters of Captain John-John and Carlota ! She's a bad-ass, tough-girl kind of a character, a leading female in a male-dominated group. She's independent and strong - my kind of gir l! As a whole, the show has a great massage in it, where the main character is a little girl, and throughout the entire story there are many other leading female characters who serves as great role models for kids. The Imaginary World is ruled by a Queen, the pirates has Carlota, and Madam Olga is a brilliant character as well.

How did you work since Israel with the team in France?
My studio and my business are in Israel. This is where I always work from. The communication between the team in France and I was all online. We're blessed to live in a world where technology basically knocked out physical borders and you can now find the talent you desire most to work with in a click of a button. You can type my name in google and find my Facebook page, DeviantArt profile, Linked-In, Instagram, Twitter, Tumblr... and contact me in a second. It's actually harder today NOT to find someone then it is to find them. Right after the brief I was sent with about the show, I set down and started to draw. Once I was pleased with what I've done I sent it to the team in France to review. Basically it's the way I work with all my clients. At the end of the day, I make the final calls regarding to my work. I never ever draw something I'm not interested in drawing or base my work on things that do not inspire me, or are un-representing my beliefs and aesthetics.

The most interesting part of working on the show with the team in France was to actually see my designs come to life ! After sending all the final costume designs from Israel, they moved on to the extraordinary hands of seamstress, builders and magic-creators in France. They took the designs and brought them to life! We all had a secret group on Facebook where the team in France uploaded pictures from the making of each costume and outfit so I felt like I'm actually there being a part of the process. Then when the first official press photos were released my friends and I in Israel saw them together and we got so excited! Even though some of the outfits had to change from my original designs, you can still see my vision there, and I absolutely love the work the team in France did on them. When I saw the character of 'Monstro Falco' for the first time, and the way he moved his eyes I felt excited like a kid at DisneyLand !


How did you make sure that the director, David Rozen, understood the sense of your decorations to create this universe where the life exceeds the death, where the imaginary world triumphs?
Actually, David Rozen was working with Juliette Azzopradi on the sets at first. They have approached me with what they wanted to accomplish. After that they sent me reference pictures of what they had in mind to be inspired by and be able to bring in my own vision to it. My goal was to created a new world. A new culture. In doing so, I was looking in history books I have at home to view different costumes and outfits worldwide. After a 2 days of research I just closed all books, abandoned any specific notion or visual approach, and decided to trust my imagination only. What better way to create an imaginary world? This is how the 'Imaginary Castle' and the view from it's window looks like a mix of Russian and Elven style, with hints of Roman architecture as well, all there to give you the feeling of something new.
How the music joined on these very poetic, joyful pictures, who take completely the spectator, the child as adult?
Music is key ! Music actually tells an extra, added story to the one on stage, a story of emotions. Music is an important part of my creative process at all times. Whenever I sit down to draw in my studio, or while working on a photoshoot, there's always music in the background. When you listen to the works of Stravinsky all the way to Stephen Schwartz or Stephen Sondheim, the music always tells you a story. You don't have to know it (the story) in order to feel the emotions it tells you through the music. I was blessed to have some rough versions of the songs written by the incredible duo of Julien Salvia and Ludovic-Alexandre Vidal for 'The Little Match Girl'. Listening to the songs and music, it took me to the world of Anna, joining her journey together with my brush and pencil.

Music is universal, it impacts as all, young and adults alike. You don't have to understand the lyrics/language in a song, to feel the emotions of it. Combining it with visuals has an unfathomable effect on the person experiencing it. Kids and adults.
Did you keep your soul of childhood?
All the time! No question about it! I think it is very important as you go along in your adulthood to never neglect the kid that you once were. Never lose touch with your childhood dreams and goals. I believe that when we're kids, our minds and souls are at their purest. We don't judge things according to certain believes or fragmented ideas, we're open to universe around us. Maybe this is why kids are so curious all the time...

It was important to me to treat the designs and visuals for the show just as I would with any other of my work. Working for kids doesn't mean the work has to be 'childish' or somewhat less sophisticated or complexed. As a kid, I never enjoyed seeing animated shows or stage productions for kids, because many of them felt cheap! I felt like I'm treated as 2nd grade person. My parents took me to see a local stage production for kids when I was about 7-8. Everything about it felt less-than amazing to me. Not being able to put it to words, a few days after I saw a new report on T.V. about the Bolshoi Ballet, and my heart skipped a beat ! "Why can't a musical for kids be THIS amazing ?" I yelled out loud for my parents to hear. "Why can't the background sets and costumes be as rich and elaborated as this in the kids productions ?'. So, whenever I work on something for kids, I think of what will the child I was would like to see.
Is it necessary for such a show?
It is highly important to stay connected with your inner-child, so you'll be able to treat kids who come to see the show with respect. Many times when I see a modern piece of artwork aimed at kids - a show, a book, a movie - it is being treated in a very disrespectful, almost unintelligent way. Kids are extremely smart, they're very absorbing and they have a much greater capacity of viewing the world, as they use both what they view and their imagination, a lot more than adults who tend to see things more in 'black and white'. I love the works of Virginia Frances Sterrett. She treated kids with respect. I also love and admire the illustration works of Sheilah Beckett and Kay Nielsen. Both possessed an outstanding abilities to bring kids with the most amazing, complexe visuals. Nancy Ekholm Burkert is one of the few living artists who has the same magic. All of these artists used their adult drawing abilities to bring kids fantasies to life. They developed their abilities as adults, and kept the spirit of their childhood. I don't like is when adults intentionally draw "like kids". It really feels disrespectful to me, almost like saying - 'we know this is all kids are able to create, so we'll give them the same thing, otherwise they won't get it!'.

Any artist who's ever thinking of making art for kids - a book, movie, or a live stage show like ours - should know that not only it is necessary to keep the soul your childhood in order to do that, it is actually the most important thing!

In a dehumanised, virtual world, where the terror and the inhumanity gain ground, and you in particular, confronted with the war for years, how can you create a wonderful, magic world, restore the imagines of the childhood : the pirates, the magic, a castle?
Perhaps there will be some who wish to call it a form of escapism. I do like to analyze what I do, see where it comes from, but only after I'm doing it. I don't like over-thinking something while I create it. Still, I can not deny that art for me is definitely a form to escape things - whether it is art that I create, or the art of many of my artists friends and inspirational people I look up too. During the last war in Israel, as well as the week or terror in Paris, it was very hard for me to create something. Anything. It is hard to get excited about something that may be perceived as 'unimportant' as to simply sit down and draw. It hit me the most after the attack on 'Charlie Hebdo'. There, people whom I can call my 'colleagues', members of the same profession and craft - they were slaughtered for their drawings! For their art! For daring to put a pencil on top of a paper and let their soul transform into lines that have a life of their own. It felt as if handcuffs were placed on my arms, preventing me from drawing.

Then came the shooting at the Hyper Kasher, right before Shabbat. It was truly frightening. We have family in Paris, they are Jewish and buy only Kosher food. We were worried about them as well as the entire situation. I do not use the computer on Shabbat, but it once Shabbat was over, I logged online and there I started to see something that truly moved me. Many people sent me messages or tagged my name in artworks they have created in memory of the victims of both terror attacks in Paris. All the drawings featured the Marianne I designed 2 years ago. Drawings of her came from kids in France, England, USA. I was very moved to see a character that I designed having such impact and used as a symbol at these times. It reminded me of the reason why we, as artists must keep on drawing and how each single line we draw can have a huge impact on someone's life.

From the earliest times, men turned to drawings and sculpture as a form of expression, to comfort, and connecting to the world around us, and even higher worlds. Prehistoric cave drawings, Chinese calligraphy, Egyptian tombstones, Greek statues, all the way to pop art and graffiti… We need art! I believe it is a basic human need! And art should not be censored at any times. It should be free to speak out loud what words can not say as it does not carry a language barrier with it, it can be understood worldwide, it is universal.

You were not in Paris for the first one, is not it frustrating not to be able to share with all the team this common and outstanding work?
Yes, it was pretty frustrating. But I was forced to stay in Israel and work on prior obligations and projects I have in my canon. There is something 'raw' in an opening night show. There's a certain magic in the eyes of the actors and performers and you can feel the excitement of everyone bringing their vision to the audience for the first time. I've been to many 'opening night' shows and it is something very beautiful to witness. At the same time, the more you go along with a show and do it again and again, you're perfecting your craft and it is also a wonderful thing to see. So I'm not that sad over missing the first night. I'll be seeing the show very soon. I'm very excited about it! I can not wait!
What are your current projects?
There's always something cooked up in my studio, I can't sit around doing nothing, it is as a waste to time to me. I'm working on photography a lot, which is my 2nd passion after drawing. Many of my upcoming photoshoots are part of editorials to be featured in magazines worldwide throughout the year. There are 2 children books in the making that hopefully will be released soon. I have just renewed my contract with The Walt Disney Company as well, and that's exciting and keeps me busy too. Closer to the end of the year all the way to mid 2016 you can expect something really special coming from my studio, but I can not talk about it right now. I'm looking forward to share it with the world as this is the real pleasure of having a talent. Which ever artistic ability you've been given, it really is worth nothing if you don't share it with others.

From the earliest times, men turned to drawings and sculpture as a form of expression, to comfort, and connecting to the world around us, and even higher worlds. Prehistoric cave drawings, Chinese calligraphy, Egyptian tombstones, Greek statues, all the way to pop art and graffiti… We need art! I believe it is a basic human need! And art should not be censored at any times. It should be free to speak out loud what words can not say as it does not carry a language barrier with it, it can be understood worldwide, it is universal.
Vidéo du spectacle au Palais Royal
Principal Costume/Character Designs with Russian influence ; Final design of the Queen's dress, and the imaginary world outfits of Anya and Miroslav ; The Imaginary World - Background/Set Drawing. © David Kawena and The cast of the show © Alfred Perrin Photographies